Rosastays Sangeet Vilas the finest luxury resort in Manesar
Surrounded by the gently rolling Aravalli Hills, Manesar was once a quiet and sleepy village on the Gurgaon border. Today it has powerful industrial units that have helped develop the city and secure it as a place of pride in Haryana.
Located off the Delhi-Jaipur highway, it has massive farmlands and resorts, which make it a favourite weekend destination for Delhiites looking for quick resort getaways.
A short drive from Gurgaon, Rosastays Sangeet Vilas has been created against a backdrop of lush farms and a green belt. Ensconced between large swaying Rhododendron and Neem trees, it is a bouquet of fresh air. The luxury resort in Manesar is easy to miss but magically reappears to look like a green oasis!
On arrival, one is greeted and welcomed with a drink. As you take in the aesthetically done interiors of the drawing room, your luggage is discreetly wheeled away and placed in your appointed room. By now, you immediately feel the stress of city life draining away, and you hop and skip toward peace and get ready to enjoy your holiday.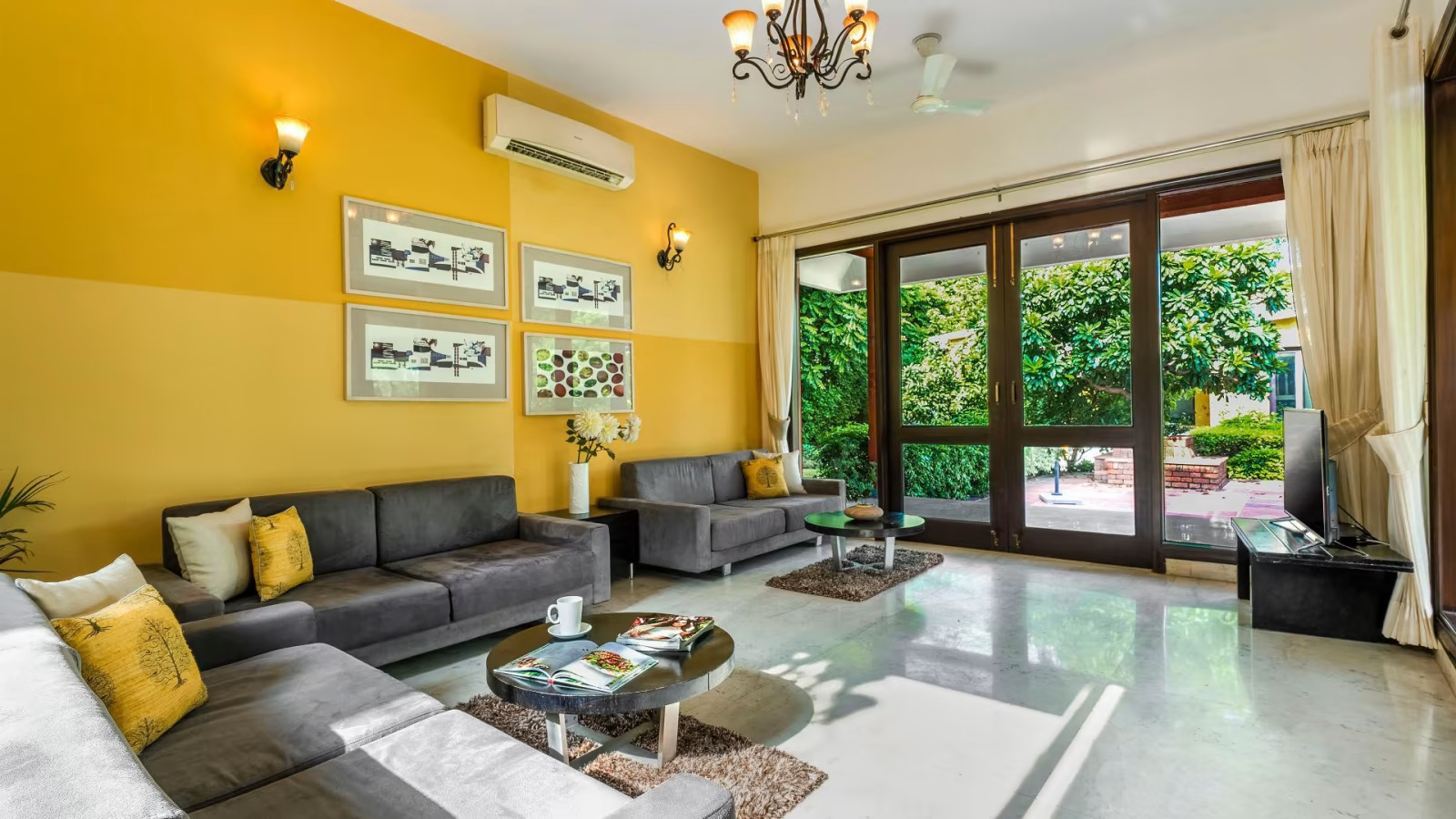 Spread over two floors, Sangeet Vilas is one of the best resorts near Gurgaon. It is spacious and offers privacy hence private nooks have deliberately been created for private conversations throughout the homestay. The drawing and dining are large and close to the kitchen.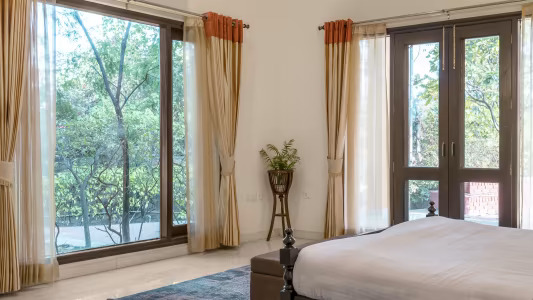 It is well laid out and has the necessary gadgets to rustle up a delicious meal! There is a six-seater dining table close to the kitchen. A winding staircase takes you to the second floor, where you can pick from four large bedrooms with attached bathrooms equipped with modern fittings.
The 10 contemporary rooms have all the amenities to make your stay comfortable. The rooms are well done and have an appealing accent wall. It has a king-size double bed, a sink-in couch, a coffee table, and a writing desk. Some balconies offer expansive views of the Aravalli range.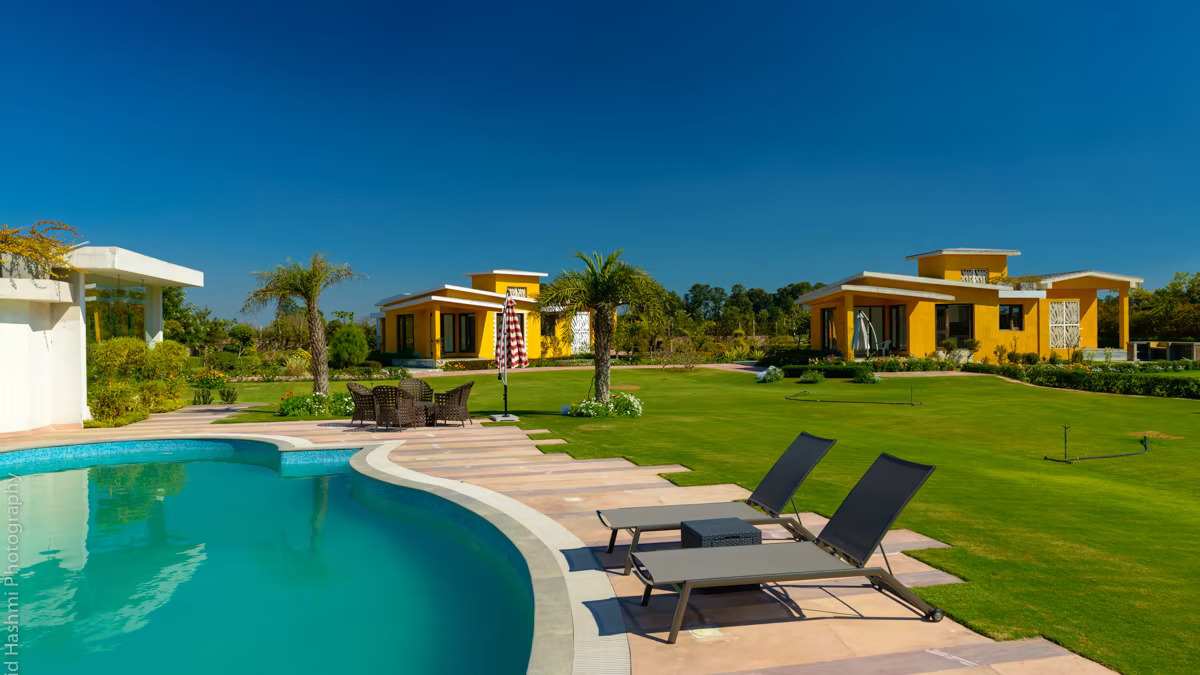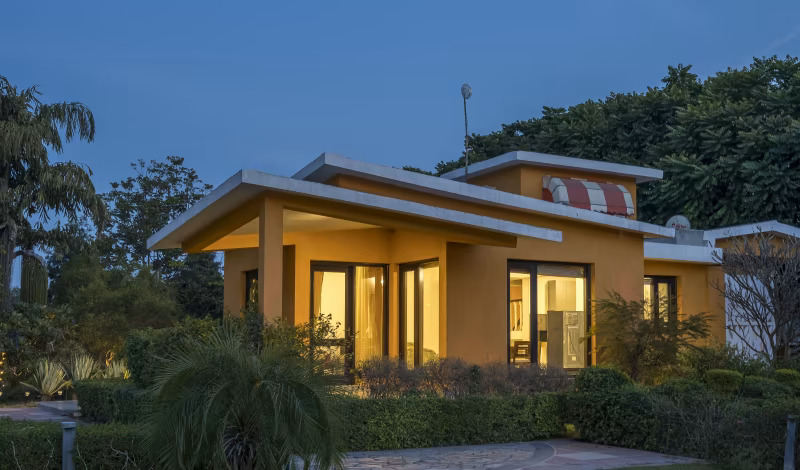 There are numerous activities to indulge in at Rosastays Sangeet Vilas a luxury resort in Manesar. While some will only be interested in endless cups of tea and conversations, others may want to stretch themselves. A host of indoor games are available for them. Alternatively, you can step outside to flex a muscle and play badminton, and frisbee and enjoy a swim in a private pool.
It is also a great idea to walk around the property, breathe in pure, unpolluted air and feel a difference. Children love the place, but strangely enough, pets are not allowed on its premises. Order whatever dish your heart wishes for, as it is a full-service homestay.
With so much to do under one roof, it is a must-visit for those seeking to spend quality time with family and friends and stay away from the hustle of city life. The Rosastays Sangeet Vilas is one of the best resorts near Gurgaon, where you can host a lavish party or serenade your loved one under a moonlit sky.