ROSASTAYS Amer The Barnhouse For a Memorable and Grand Vacation in a Luxury Bungalow in Jaipur
Visitors to Jaipur, renowned for the legendary tales of Rajput kingdoms and their opulent palaces, can find a tranquil retreat in ROSASTAYS Amer The Barnhouse, a luxury bungalow in Jaipur. Spread across acres, it has large lawns that can host up to 50 guests for special occasions such as birthdays and anniversaries. Additionally, the villa offers a range of amenities, including a shower room, a changing room, and a swimming pool that is 70% covered.
This luxury bungalow in Jaipur has five bedrooms – two deluxe rooms on the ground floor and two on the first floor and a suite that overlooks the garden. Each suite has a living room, dressing room, and two washrooms and is well-ventilated and stylish, with big beds, couches and chairs. All the rooms have tea and coffee makers, fans and air conditioners, and closets to make them cosy and inviting. Plus, there's wifi!
The dining area is a real treat – the tables and chairs are hemmed in linen, and the walls show off some cool wall art! After a long day, you will love the soft lights and full bar, as it is an oasis in the desert! It is interesting to note that some of the land has been left open for barbecue days and bonfires so you can have some quiet conversations.
Deluxe Rooms
ROSASTAYS Amer The Barnhouse has some of the best options around. At the luxury bungalow in Jaipur, you can choose from four spacious deluxe rooms, each with a sink-in bed, a cupboard, comfy lounge chairs, an intercom, and a TV. The bathrooms are big and bright and come with running water and toiletries. All the rooms are clean and tidy to make you feel right at home. The airy rooms let in plenty of light and ventilation, and the long French windows open onto a patio surrounded by trees and bushes.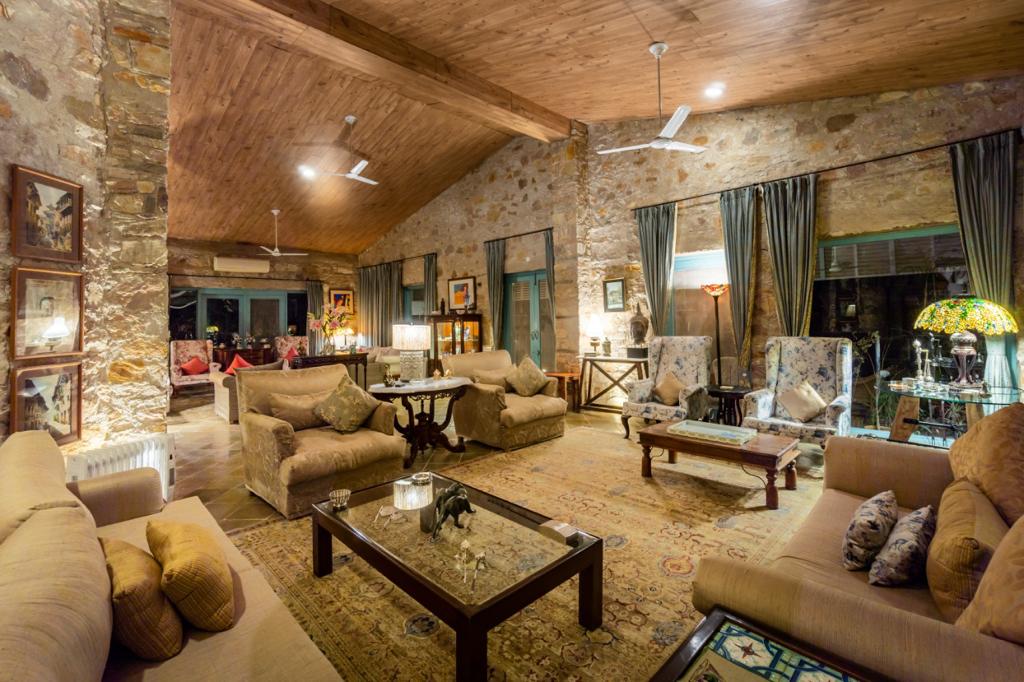 The Suite
The suite is on the top floor of the luxury bungalow in Jaipur. It has a bedroom, dressing room, walk-in closet, living room and two washrooms. The bedroom has a four-poster bed with side tables and loveseats, giving it a cosy feel. The living room has lots of couches and chairs and overlooks the garden. It is like you are in a private forest with no one around! The bedroom has wood floors for maximum comfort and privacy, while the living room and sitting area have a rustic feel with stone floors. Book this suite for a luxury experience and wake up to birds singing!
#luxurybungalowinJaipur