Rosa Vatika Ramgarh Nainital: Home away from home
If you are planning a trip to Uttarakhand this time, how about visiting Ramgarh in Nainital for a whiff of pure nature? A small hill station that has over the years turned into a popular tourist destination, Ramgarh lies on the way to Mukteshwar. Rich in orchards and abundant flora, one is lucky to get an unobstructed view of the snow-capped ranges of the Himalayas. Rightfully known as the Fruit Bowl of Kumaon, the verdant green valley is replete with fruit orchards that bear peaches, apricots, pears, and apples. Ramgarh is so picturesque that its beauty will surely leave you speechless! Did you know it was once the cantonment of the English army?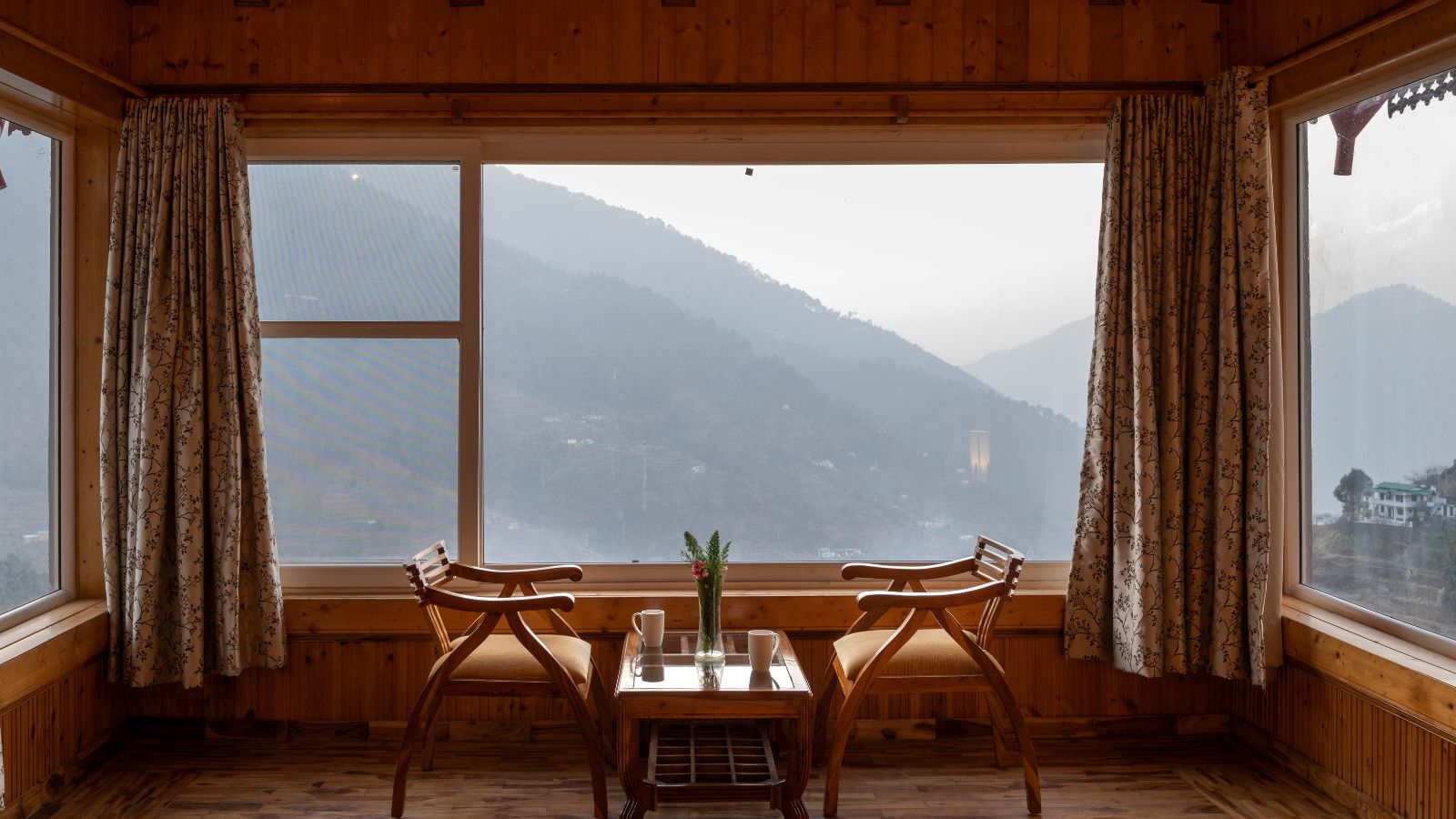 Whether you are a solo backpacker or someone who enjoys travelling in a group, at the end of a strenuous day, you would want to rest in a place that feels like home. Looking for a homestay or a villa with a nice homely touch, a comfortable room and a well-cooked homemade meal? Once you have decided to visit Ramgarh, the hidden jewel, the next best thing would be to check into Rosa Vatika Ramgarh as it checks all boxes. Located in the village of Jhutiya, Rosa Vatika Ramgarh is an interesting rustic space with a reputation for being the best villa in Ramgarh Nainital! Built over three floors, Rosa Vatika has all the trappings of a dreamy mountain retreat. Made completely of wood and stone – on a cold winter day, it is like being enveloped in a warm hug. The interiors have a pleasant woody fragrance running through them typical of mountain homes. The slanted wooden roof has skylights that allow the sun's rays and moonbeams right into the rooms. The walls have large bay windows that offer a peek into the forest and orchard below. Equipped with a comfortable bed, bean bags, cupboards, and modern amenities like a tea/coffee maker and WIFI, the villa is a wish come true! There are attached bathrooms that are clean and well-designed. All the rooms have balconies that you can just walk out to and breathe in the smell of pines, and enjoy the view of the thick forest below and the majestic Kumaon mountains above.
Dining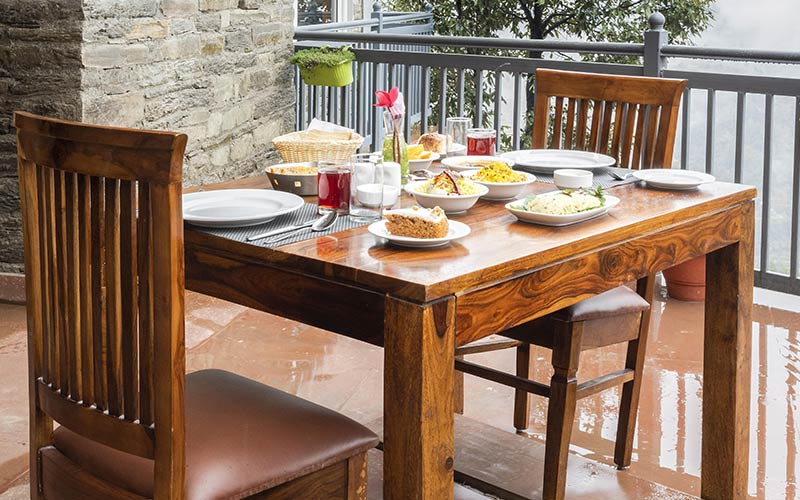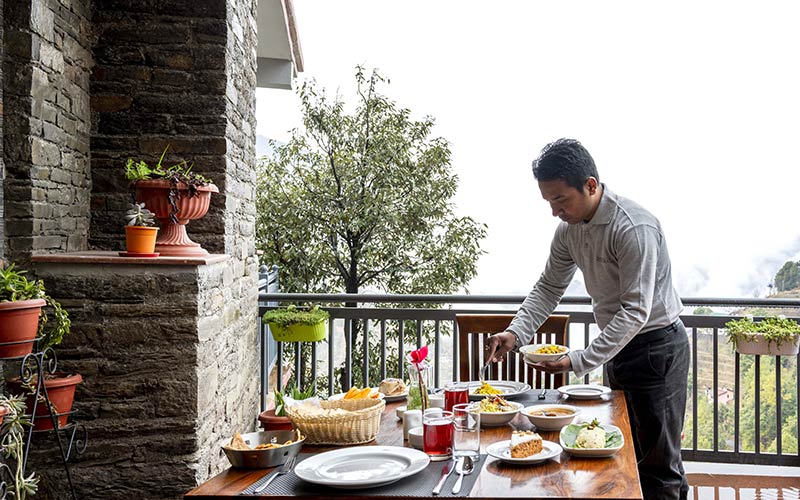 This villa in Ramgarh Nainital has a dining area that can accommodate up to 24 guests and is a charming part of the villa. Done up aesthetically in stone, it stays both warm and cool as per the season, with fans also in place. The large windows overlooking the greens below lend it a quiet air. The balcony gives a birds-eye view of the surrounding area. What's more the in-house café serves a great mix of delicious cuisines!
Standard Rooms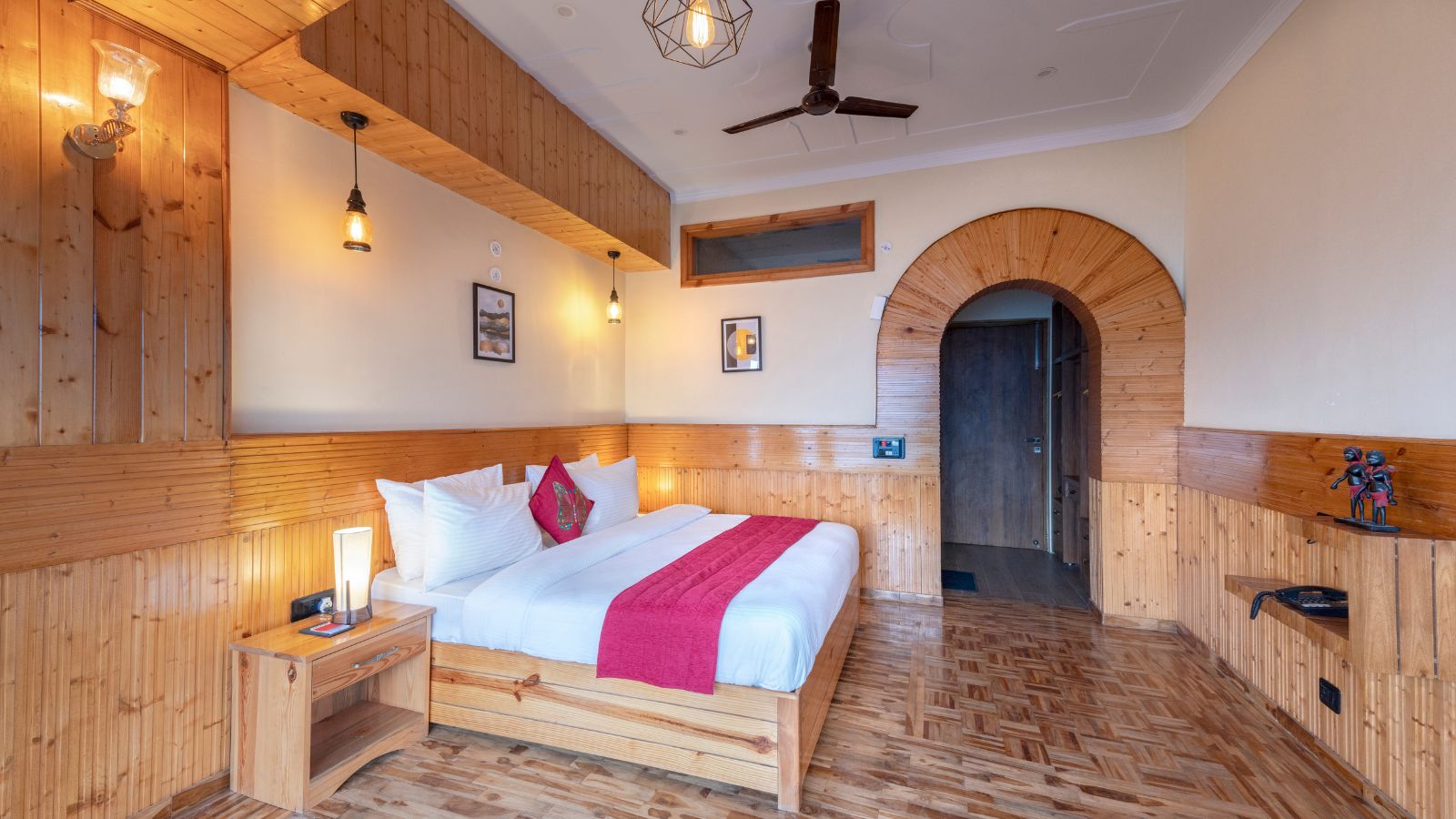 The villa in Ramgarh Nainital has 10 rooms that are categorised into Standard and Deluxe Rooms, and Suites. The Standard Rooms are the cosiest and are a pleasure to check into. The wood panelling on the walls, compact-sized beds and conveniently placed side tables with cute table lamps are lovely and one couldn't ask for more! Modern amenities like WIFI and tea/coffee maker are available, as well. The attached balcony urges one to step out and breathe pure mountain air. Guess what – the bathrooms are clean, too!
Deluxe Rooms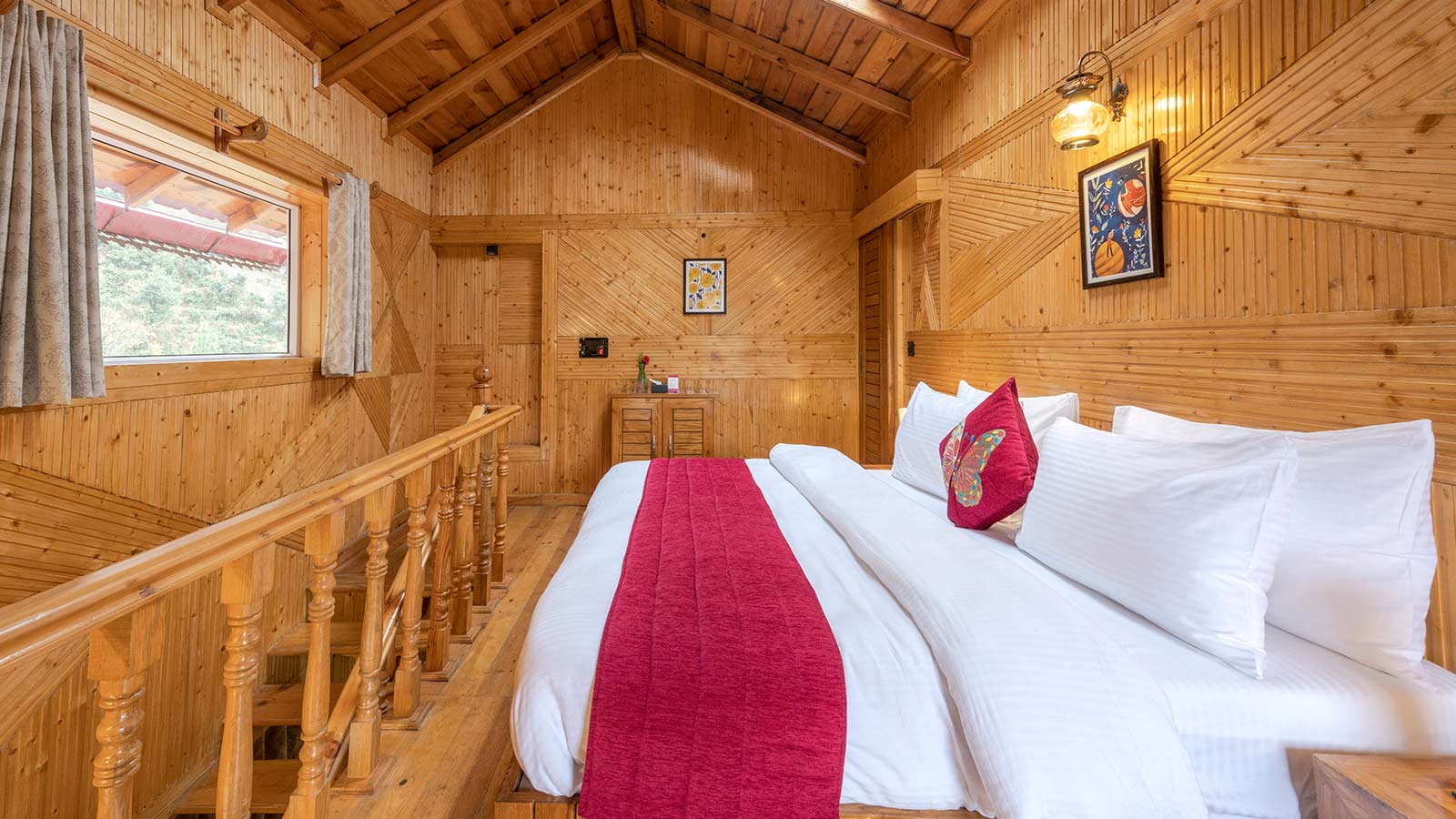 How many times have you dreamt of having a holiday in a mountain villa and staying in beautiful wooden rooms? Well, the Deluxe Rooms at Rosa Vatika Villa in Ramgarh Nainital is just that reality! The spatial rooms have king-sized beds adorned with quality linen, built-in wardrobes and modern light fixtures. An intimate corner near the bay windows has been created for two to enjoy their beverage or one could even step onto the balcony. It is the kind of room that allows you to relax and be one with nature.
Suites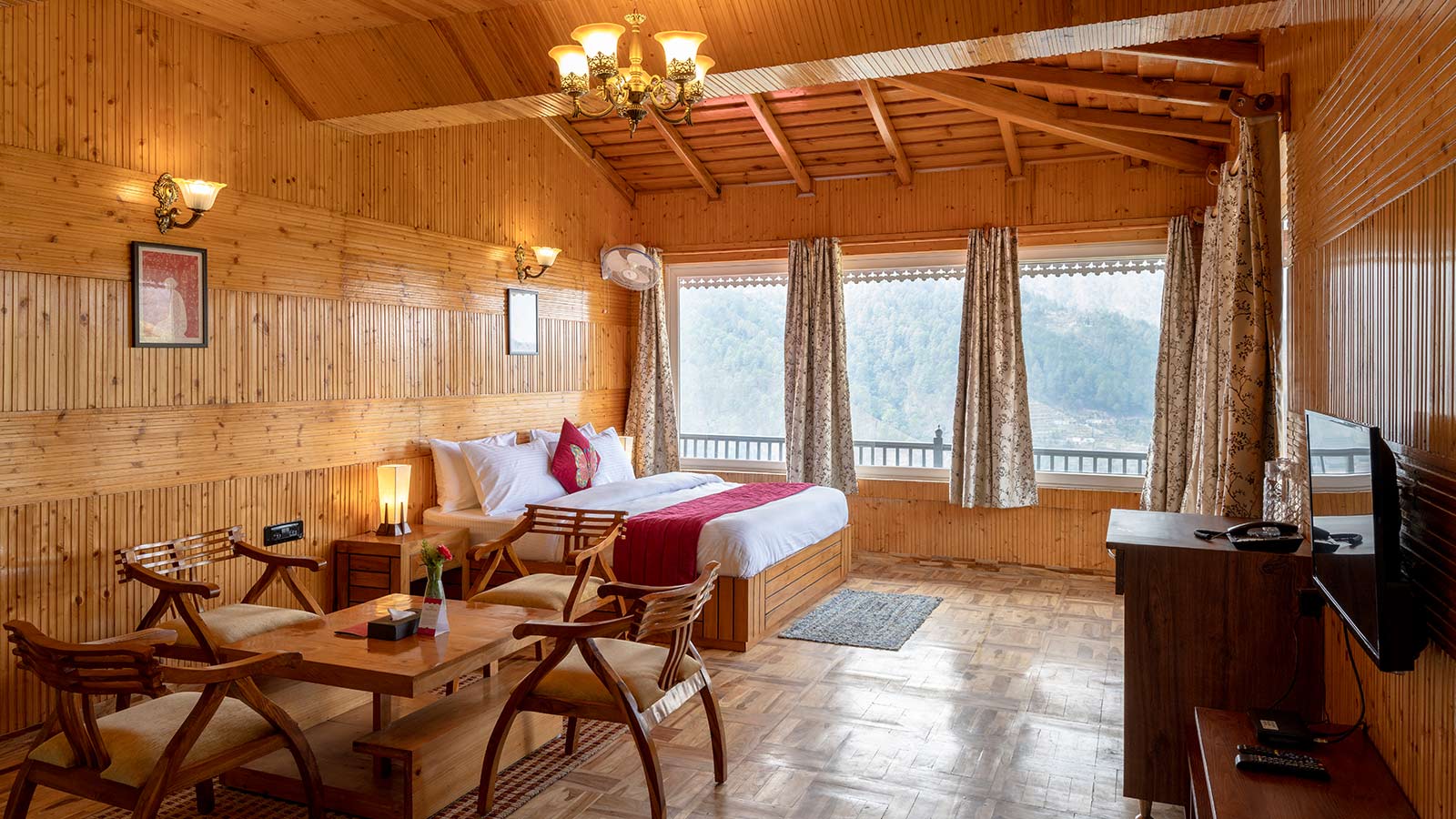 The most attractive accommodation is the Suites at the villa in Ramgarh Nainital! The wood panelling on the walls, floor and ceiling keeps it warm and adds to the cosiness. It is best for a family with children or even four adults. It has two super comfortable king-size beds with soft luxurious linen, lounge chairs and tables, and is equipped with convenient amenities. An ideal setup for couples who enjoy indoor card and board games, and wish to spend quality time with each other. Some of the suites have a flight of steps leading to the second bedroom or a tiny attic, perfect for children.
Rosa Vatika Ramgarh is an idyllic getaway destination and one of the best in Ramgarh Nainital!
#villainRamgarhnainital